Covert Optics Thermx HS1 Thermal Hand held Scanner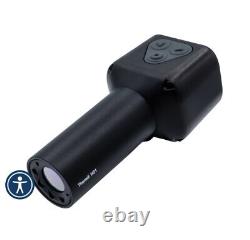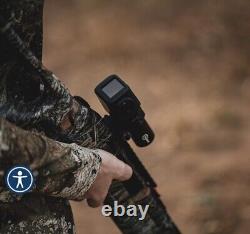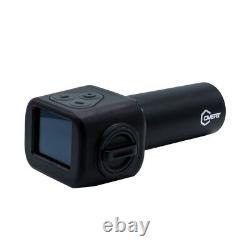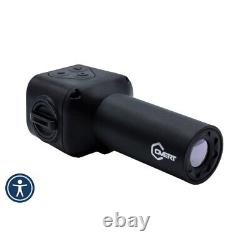 Covert Optics Thermx HS1 Thermal Hand held Scanner. Covert Optics ThermX HS1 Handheld Scanner. Lepton 3.5 micro core sensor with 160x120 sensor resolution, and a 9hz frame rate.
1.5 OLED color display with 160x128 resolution. 4 Color modes White-Hot, Black-Hot, Green, and Multi Color. Ultem housing and Germanium Lens in an Aluminum body. Size 4.3" x 2" x 1.5. ThermX HS1 handheld thermal scanner is like having a bloodhound in your pocket. A field-use device, this custom-designed unit gives bowhunters and the greater hunting community the versatility to act as a powerful game-recovery tool or a sight on your weapon. If you've ever been stumped on a blood trail or encountered the dreaded "one that got away, " this unit deserves review. Lightweight, compact, and with a monocular-style design, this thermal "multi-tool" will give you the confidence you need should your hunt not go exactly as planned. And, you can use the HS1 for both game recovery and predator detection, no matter the lighting or ambient temperature conditions. Powered by the dynamic Lepton 3.5 micro core with enhanced image processor, the HS1 generates high-resolution images that are brilliantly displayed in real time on a freeze-resistant OLED screen. The simple-to-use interface has a variety of options to fit virtually any hunting situation you might face.
Screen display options include white hot, black hot, and multicolor for total optimization in any environment. With the ability to adjust windage and elevation, the HS1 is equally comfortable covertly operating as a mountable sight with its 4X magnification and moderate field-of-view for accurate, rapid target acquisition. The simple 3-button control system provides easy navigation of the unit's various features and options, while also giving users a wide range of field applications including observation, detection, and recognition of wildlife. The HS1 brings an amplified sense of utility and confidence to the field that's without equal, and it's the perfect tool for any hunter looking to enhance and expand their hunting arsenal.