Iris Pen Air 7 Digital Highlighter 462447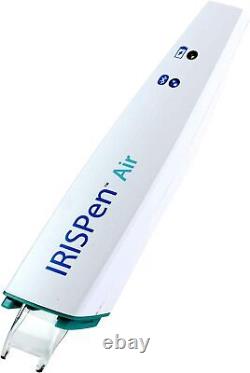 Iris Pen Air 7 Digital Highlighter 462447. Simply slide IRISPenT Air over printed text or numbers from newspapers, magazines, invoices, faxes, letters or any other type of document, and the text will automatically be retyped in your computer.
It doesn't matter if you use Word, Excel, or any other text editing application or web-based editor. Anywhere you can type, IRISPenT Air can type too! Scan any kind of document IRISPenT Air is made to scan text on any kind of paper document. You can use it to scan text lines in books, magazines, newspaper, letters, faxes or even documents in a binder.
The digital highlighter can also be used in many situations including scanning books at the library, translating menus at the restaurant or scanning barcodes from a bank transfer slip. Small, wireless & easy to use IRISPenT Air is very compact and fits well in hand. It only weighs 9 oz.
And it is about the same size as a traditional highlighter. You can easily store it in a purse or even a pencil box and carry it along wherever you go.
To start scanning, simply synchronize the pen with your computer, tablet or smartphone using the Bluetooth connection. The provided software (for Mac® or Windows®) and applications (for IOS or Android®) make it very easy to setup and use the pen in any situation.
You scan, it reads out loud and translates! Let IRISPenT Air do the reading for you! The digital highlighter features text-to-speech technology which turns any scanned text to audio for you to just relax and listen to. This option is great for children, visually impaired or even dyslexic people.
Furthermore, IRISPenT Air can also translate and read text out loud in 55 different languages - the perfect tool to practice your foreign accent anytime! Perfect for students, teachers, as well as any private user or professional For over 35 years, IRIS' family of digital highlighters has been used by thousands of professionals including doctors, teachers, lawyers or accountants in their daily tasks, helping them save countless hours of tedious retyping work. IRISPenT Air also proves to be an ideal tool for students making researches in books or for writers wanting to save ideas or excerpts from their readings. A multilingual solution IRIS' awarded technology enables you to scan and recognize text in over 130 different languages. Scan CMC-7 barcodes IRISPenT Air is able to scan more than text, logos, signatures and small graphics.
It can also scan and recognize MICR CMC-7 font barcodes, which are widely used to scan bank codes, account numbers, check numbers, check amounts, or check control indicators. This item is in the category "Computers/Tablets & Networking\Printers, Scanners & Supplies\Scanners". The seller is "nothingbutsavings" and is located in this country: US. This item can be shipped to United States.
Brand: Iris USA
MPN: 462447
Type: Handheld Scanner
UPC: 0765010770151