Portable Touch Screen Digital 3/6 Channel 12Lead Electrocardiograph ECG&EKG US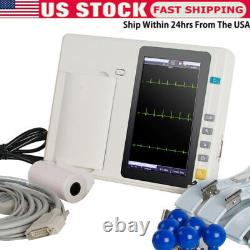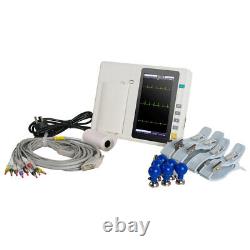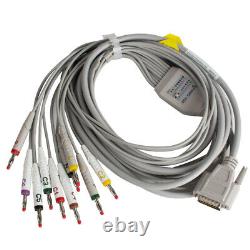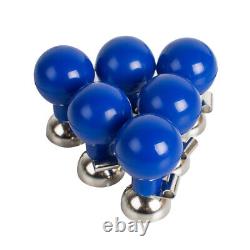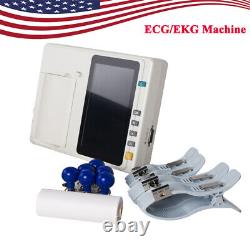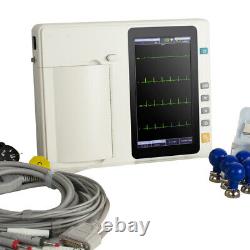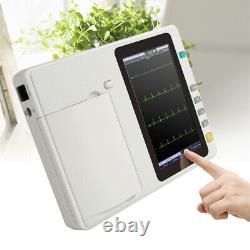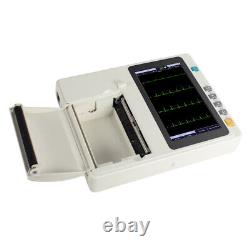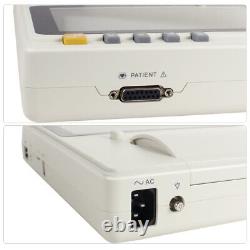 7 inch graphic LCD display, touch screen and function key control at the same time, more convenient and shortcut. Channel ECG machine with interpretation. Auto-regulation of baseline drift can effectively inhibit baseline drift, optimizing the printing position to achieve high-quality ECG. With automatically measuring and analyzing function for ECG parameters to reduces the doctor's burden and improves work efficiency. With a high resolution thermal printer to print out ECG trace, describing the trace clear and accurate, annotation as well as related parameters for diagnostic reference.
Adapt 110-240V, 50/60Hz AC power supply. Floating; Protection circuit against Defibrillator effect. Automatic: 3CH×4+1R, 3CH×4, 3CHx2+2CHx3,3CHx2+2CHx3+1R, 6CHX2. Manual: 3CH, 2CH, 3CH+1R, 2CH+1R. EMG Filter: 25 Hz / 30 Hz / 40Hz/75 Hz / 100 Hz / 150Hz. DFT Filter: 0.05 Hz/ 0.15 Hz. AC Filter: 50 Hz / 60Hz.
2.5mm/mV, 5 mm/mV, 10 mm/mV, 20 mm/mV. 12.5 mm/s, 25 mm/s, 50 mm/s. IEC60601-1 class I, type CF. DC: 14.8V/2200mAh, built-in lithium battery.
AC220V±10% 2F5×20mm, T2A/250V AC time lag. AC110V±10% 2F5×20mm, T4A/250V AC time lag. This product bears CE mark and the notified body is 0482. Only unused, undamaged and original condition item can be qualified for a return.
We're one of the largest online dental suppliers based on many qualified manufacturers in China. We supply all dental items with very nice qualities and the best reasonable prices for worldwide dentistry students, dentists and other professionals. Looking forward to our friendly & win-win cooperation. The sale of this item may be subject to regulation by the U. Food and Drug Administration and stateand local regulatory agencies.