RadioShack PRO-106 Digital Trunking Handheld Radio Scanner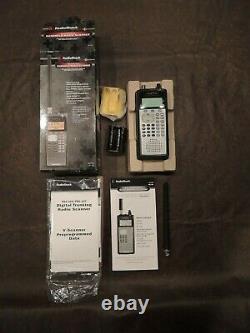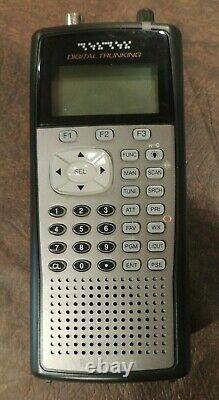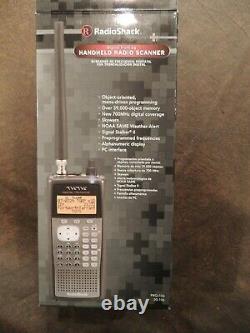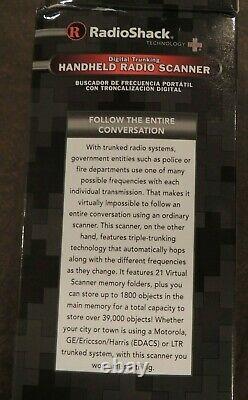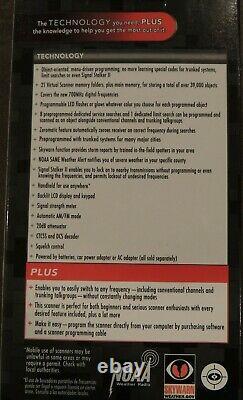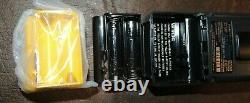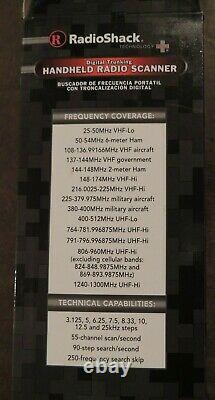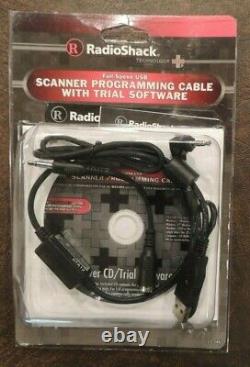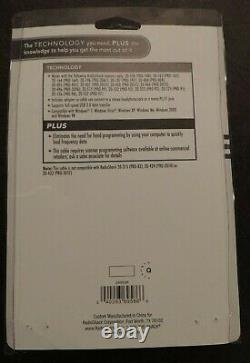 This comes in all of the original packaging. Main box sealing tab torn but otherwise in fantastic shape. Rechargeable Battery Holder Optional 9V DC Adapter is not included in this lot. Also comes with a Radio Shack Original Scanner Programming Cable and Trial Software Accessory Kit. I inserted batteries and the unit powers up.
There is no existing programming in the unit and. I didn't want to take the time to learn how to program the unit. I can say though that. When I switched to the Weather Band it does receive the NOAA weather broadcast so I know the receiver works.
Some Specs/Details of this unit. See the Object Oriented Scanning Described. 22 Scan Lists - 20 lists to program, use, and select like traditional banks allowing you to arrange, group and scan objects according to your preference with an additional'Favorites' list to create a scan list tailored to your favorite objects and a'Skywarn' list.
Multi-Site Trunking - allows you to scan systems covering a very large geographic area that use multiple antenna sites and operate on different frequencies but use the same Talk Group IDs. Multi-Site option to look for the site with the best received CC decode rate. (Not the same as RSSI on the Motorola rigs, but similar in operation).
21 Virtual Scanner Memories; one copy of working memory can hold up to 1800 objects, meaning any combination of talkgroups, conventional channels, and trunking systems. Each V-Scanner folder holds one copy of working memory. So, 21 1800 = about 37,800 objects altogether can be stored in the V-Scanner storage system.
700MHz and 380MHz Trunk Scanning. Object programmable LED; eight factory default colors to any color / brilliance you want by having direct access to the R-G-B drive values (including flash) to assign to talkgroups, frequencies, agencies, etc. LATCH option; the color of the last received object stays on until reset. Audible Alarms - programmable audible alerts can be configured to sound when certain scannable objects are active. Hit Counters - keep track of how many transmissions are received for each object type.
LTR Home Repeater AutoMove - enter the LTR system frequencies in any order, and the scanner will automatically move the frequencies to the proper home repeater slots as transmissions are received on the system. Object Duplication- useful when entering multiple ID objects that are in the same trunked radio system, or multiple conventional objects that have similar parameters or tag names. FlexStep - allows you to enter a frequency in any 1.25 kHz step. Can be programmed to only break squelch when receiving the correct NAC in a conventional P25 system. Pre-programmed systems for most major metropolitan areas.
7 Service Search Bands - Marine, CB, FRS/GMRS/MURS, Police/Fire, Air, Ham, and Railroad and a limit search. Built in discriminator data output in simple ASCII output using the PC/IF port. Full duplex support and USB connection using the Whistler programming cable. Default Option keys; return to default setting for any menu. 16-character alpha-tagging with text entry can show ID code or service name. Temporary/Permanent Lockouts - lets you temporary or permanently lockout any programmed object. Scan/Search/Trunking Delay - variable delay (0 to 25 seconds) before searching for another object so you can hear more replies that are made on the same object.
UNSQUELCH Delay; Delay settings before the radio unmutes audio to speaker. Private Calls and RadioID alpha display. Easy-to-read back lit control and display with back lit keypad. Object'Find' - lets you search by lockout status or by text.
Weather band with enhanced SAME. Weather Alert functions and weather priorityaccess weather channels and alerts with the push of a button. Priority Scan - the scanner will sample conventional objects for activity periodically while scanning and monitoring other objects. The scanner will also give IDs priority over other IDs while checking a particular trunking system for activity.
Lets you program your scanner (per object or globally) to reduce the scanner's sensitivity to strong local signals or noise caused by these signals to reduce interference. Create a password to use scanner. Computer interface and Programming (with computer control).
3 function keys; softkeys, that when pressed, execute the function that is shown just above the key in the display. 5 way navigation keys to access special modes and programming options. 4 line x 16 character display with relative signal strength meter. Display of the Radio ID of the transmitting user. Data Cloning - lets you transfer the programmed data from one scanner to another. You can also download the programmed data from a PC to the scanner or upload the programmed data to the scanner (using an optional two-way PC cable) with optional software. This scanner is compatible with the following Trunking System Types and System Voices used in the RadioReference Database, of course you must verify that the scanner will cover the appropriate frequency range.
Motorola Type II SmartZone OmniLink. Analog and APCO-25 Common Air Interface.
APCO-25 Common Air Interface Exclusive. The item "RadioShack PRO-106 Digital Trunking Handheld Radio Scanner" is in sale since Sunday, November 29, 2020. This item is in the category "Consumer Electronics\Radio Communication\Scanners". The seller is "bubba5" and is located in New Boston, Michigan.
This item can be shipped to United States.
Features: NOAA Weather Channels
MPN: Pro 106
Model: PRO-106
Communications Protocol: Digital (Trunking)
Brand: RadioShack
Type: Handheld