Zebra DS3608-SR00003VZCN Ultra-Rugged 2D Wired Handheld Digital Barcode Scanner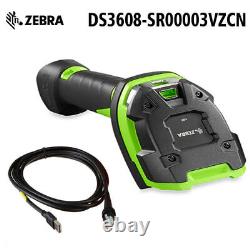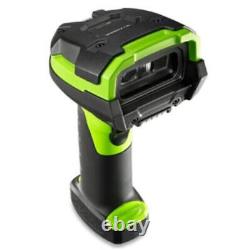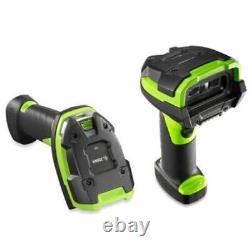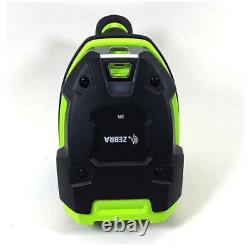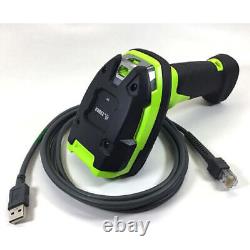 Honeywell 1980IFR-3USB Industrial-Grade Area Imaging Full-Range Barcode Scanner. Honeywell 1950HHD-5USB-A 1950h Xenon 1D 2D Performance Handheld Barcode Scanner. Symcode MJ-R30 2D Ring Bluetooth Wireless Mini Finger Barcode Reader Scanner. Zebra DS4608-SR7U2100AZW 1/2D Hands-free Automatically Barcode Scanner W/ Cable. Datalogic Gryphon GD4590-BK-B Handheld Omnidirectional Corded Barcode Scanner. Honeywell MK7120-31A38-CNAF USB/RS232 2D Laser Omnidirectional Barcode Scanner. Datalogic Gryphon GBT4500-BK-BTK1 1D Laser Bluetooth Wireless Barcode Scanner.
Motorola Symbol LS3408-ER20005R Extended Range Handheld Rugged Barcode Scanner. Zebra DS9908-HD4000WZZWW Handheld 2D USB Imager Barcode Scanner With USB Cable. Zebra DS3608-ER20003VZCN 2D Imager Ultra-Rugged Handheld Corded Barcode Scanner.
2m Symbol Barcode Scanner USB Cable LS4208 LS1203 LS2208 CBA-U01-S07ZAR LOT. Datalogic Gryphon GD4590-BK-HD 2D Handheld Corded Barcode Scanner With USB Cable. Zebra DS4208-HD00007WR General Purpose Handheld 2D Barcode Scanner w/ USB Cable. Honeywell 3310G-4-INT VuQuest 2D Hands-Free Desktop Barcode Scanner W/ Cable. Zebra Motorola LI4278-SR20007WR Bluetooth Wireless Barcode Scanner with Cradle.
Zebra DS2278-SR00007ZZCN 2D Handheld Buletooth Wirelress Barcode Scanner Reader. Zebra DS9308-SR00004ZZWW Desktop 1/2D Image QR Handheld Barcode Scanner RS-232.
Datalogic HLD-P080 Holder Wall Mount for Barcode Scanner PowerScan PD9531-ARK1. Honeywell Voyager 1450G1D-2USB-1 Handheld 1D Barcode Scanner Reader W/ Stand.
Zebra Symbol Motorola DS6707-SR20007ZZR 1/2D QR Handheld Reader Barcode Scanner. Zebra DS3608-SR00003VZCN Ultra Rugged Handheld 2D Barcode Scanner Reader. Product description As a member of the Zebra 3600 Ultra-Rugged Series of scanners, the practically indestructible 1D/2D DS3608-SR corded scanners are ready for the worlds toughest environments the warehouse and manufacturing floor. Designed to capture virtually any barcode, these scanners are loaded with features that deliver truly unstoppable performance, redefining reliability and management simplicity. The ultra-rugged design is practically indestructible-ideal for punishing environments. The DS3608-SR couldn't be easier and less time-consuming to deploy and manage. The DS3608-SR--the unstoppable performance you need to maximize workforce productivity and throughput in your operations. 22F to 122F / -30C to 50C. / 2.4 m drops to concrete. 1D (Code 39, Code 128, Code 93, UPC/EAN, GS1 DataBar) and 2D PDF417, Micro PDF417, Composite Codes, TLC-39, Aztec, QR Code, Micro QR, Postal. W x 5.2 in. D 18.5 cm H x 7.6 cm W x 13.2 cm. We will ensure that you are satisfied.