Zebra Symbol DS4308-SR7U2100AZW 1D/2D Digital Barcode Scanner USB Kit with Cable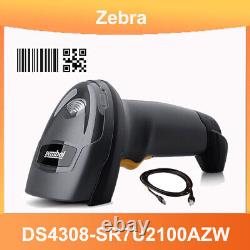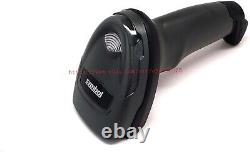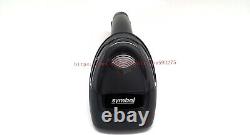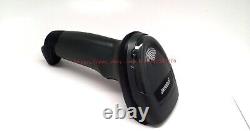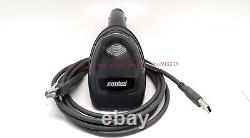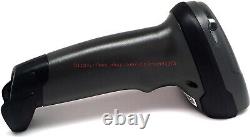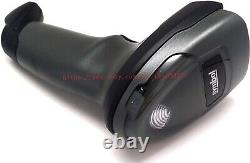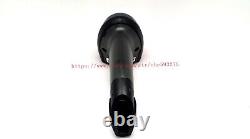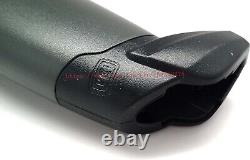 A NEW LEVEL OF PERFORMANCE and MORE VERSATILITY allow capture of any barcode. If you're looking for extraordinary flexibility and performance in your handheld scanner, the next-generation scanning technology in the DS4308 delivers. Its truly extraordinary range does the job of two scanners, allowing you to scan nearer and farther than any other scanner in this class. Your workers can scan virtually any barcode.
The DS4308 does it all - 1D or 2D, electronic or printed on paper labels or plastic cards, even if the barcode is dirty, scratched or poorly printed. With PRZM Intelligent Imaging inside, your workers can capture barcodes as fast as they can pull the scan trigger.
And that means no more Point-of-Sale exceptions that can turn into longer lines, longer wait times and lost sales. The DS4308 - a new class of scanner for a new world of barcodes. Zebra DS4308 - Powerful scanner that does the job of two.
The High Density (HD) model scans standard bar codes as well as the tiny, dense barcodes commonly found on jewelry tags, consumer electronics and electronic components. A NEW LEVEL OF PERFORMANCE.
SCAN ANY 1-D OR 2-D BAR CODE FARTHER AND FASTER WITH NEXT GENERATION SCANNING TECHNOLOGY. The DS4308 is a feature-rich next generation 2-D imager that resets the bar for scanning performance, scanning range, versatility and ease-of-use.
Workers can capture virtually any bar code faster than ever, whether it is displayed on a smartphone, tablet or computer or printed on a label - even if it is scratched, damaged or dirty. Its small and lightweight design offers the ergonomics your workers need for all day comfort in the most scan intensive jobs. A variety of models meet a wide range of business needs - from the Point-of-Sale in a retail store to the light industrial manufacturing production line. Regardless of which model you choose, you get one powerful scanner that does the job of two.
And driver's license parsing can be added to either model. An extraordinary feature set and an extraordinary value.
PRZM Intelligent Imaging technology for next generation performance. Resets the bar for 2-D imaging by improving decode performance and snappiness, dramatically improving the user experience, user productivity, throughput and wait times. Scan any bar code on any medium. Scans 1-D, 2-D and PDF417 bar codes printed on paper labels or displayed on mobile devices or computer screens. Megapixel sensor for maximum data capture flexibility. Delivers the resolution required for longer-distance scanning, clear photos, sharp signatures and more accurate OCR data. Largest "sweet spot" for can't-miss point-and-shoot scanning simplicity. With a decode range that allows users to scan any bar code type at any density nearer and farther than any other scanners in its class, scanning is truly second nature - users just point and shoot. Enables true point-and-shoot scanning simplicity by eliminating the need to align bar code and scanner.
Durable design for superior uptime. Built to survive a 6 ft.
/1.83 m drop to concrete, the DS4308 delivers reliable operation, despite the inevitable everyday drops. Adjustable beeper volume and frequency tone. You get the flexibility to adjust beeper characteristics for your environment - from a quiet boutique store to a noisy light industrial manufacturing production line. Smart auto-host detect cables automatically determine which interface is attached, eliminating the need to scan numerous configuration bar codes.
Over 90 international keyboards are hosted within the scanner for easy setup, all around the world. Crisp and bright aiming dot has the reach and brightness needed for long distance scanning - as well as picklist mode. Thanks to a special LED wavelength and recessed lighting, when a bar code is scanned, the light that is emitted is soft and unobtrusive, preventing eye fatigue and improving the environment for customers and workers. Complimentary tools simplify and reduce the cost of everyday management. 123Scan and Scanner Management Service (SMS) work hand-in-hand to reduce management time and cost by.
Automating initial configuration and enabling remote management of your DS4308 scanners. Driver's license parsing (DL model required).
UL60950-1 2nd ed, CSA C22.2 No. 2D (matrix & stacked) barcodes supported. Aztec Code, Composite Codes, Data Matrix, Han Xin, MaxiCode, Micro QR Code, MicroPDF417, PDF417, QR Code, TLC-39. Code 128, Code 32, Code 39, Code 93, Industrial 2 of 5, Interleaved 2 of 5, U. It usually takes around 3 to 4 weeks to United Stated, United Kingdom, Australia, Canada and some European countries.
But for other countries, it may need 5-7 weeks to deliver the parcel. All items will be tested or checked carefully and packaged in good condition before sending out to you. Some faulty items might happen especially after overseas transportation. We promise we will provide prompt and satisfactory solution to you.
Your 100 satisfaction is our greatest goal here. Friendly communication is always appreciated and welcome. Sometimes it might get filtered as a spam or our office is closed for weekends and public holidays.
HD 1080P 2.4G/5G Wifi IP Camera Bulb Smart Home Security Lamp Light Cam 360° IR. HIKVISION NVR 16 CHANNEL 16CH POE FULL 4K-UHD DS-7716NI-K4/16P UP TO 4 HDD 8MP. Hikvision DS-2CD1047G0-L 4MP POE IP67 Outdoor ColorVu Bullet Network Camera. Hikvision 4MP AcuSense DarkFighter PoE Motorized Zoom IP Camera DS-2CD2743G2-IZS. HIKVISION 4CH CHANNEL 4K 8MP NVR Security IP POE Recorder DS-7604NI-K1/4P.
Hikvision 8MP 4K ColorVu Varifocal Dome IP Camera Audio&Alarm DS-2CD2787G2T-LZS. Zebra DS4608-SR00007ZZWW 1D 2D Area-imaging Handheld Barcode Scanner w USB Cable.
Hikvision 4K 8MP DarkFighter+AcuSense DS-2CD2386G2-ISU/SL Camera PoE 2-Way Audio. Hikvision DS-2CD1023G0-IUF Built-in Microphone IR 30M 2MP H. Hikvision DS-2TD4228T-10/W 4MP 32x Zoom Thermal Auto Tracking PTZ Dome IP Camera. Hikvision Original Cube IP 4MP DS-2CD2443G0-IW Built-in Two Way Audio with WIFI. Hikvision DS-2CD2086G2-IU/SL 4K 8MP AcuSense Strobe Bullet IP Camera 2 Way Audio. Hikvision DS-2DE4A425IWG-E 4MP 25x PTZ DarkFighter PoE IP Camera Smart-Tracking. Hikvision 8MP Darkfighter IR Outdoor IP Camera POE DS-2CD2085G1-I Face Detection. Hikvision Original 8CH 8POE DS-7608NI-K2/8P 4K NVR Network Video Recorder H. Hikvision 8CH 4K 8POE NVR DS-7608NI-I2/8P 12MP P2P HDMI Network Video Recorder.
Hikvision 4K 8MP DS-2CD2T87G2P-LSU/SL 180° Panoramic ColorVu Bullet IP Camera. Hikvision Original 4K 8MP IP Camera Acusense Darkfighter POE DS-2CD2386G2-IU MIC. Passive RJ-45 POE Injector Splitter Power Over Ethernet Adapter For CCVT Camera.
Hikvision DS-2CD1023G0E-I 2 MP IR Fixed H. 265+ DWDR IP67 Bullet Network Camera.